Count Coachella as the latest victim of the Coronavirus COVID-19 outbreak. Goldenvoice has officially postponed the popular music festival. The fest will now take place Oct. 9, 10 and 11 and Oct. 16, 17 and 18.
Goldenvoice, the festival sponsor, made the announcement on Tuesday and rescheduled Coachella at the direction of Riverside County and local health authorities, they said in a statement. Stagecoach, which was scheduled to happen the weekend after Coachella weekend 2, will now take place Oct. 23, 24 and 25.  This appeared on the Coachella website: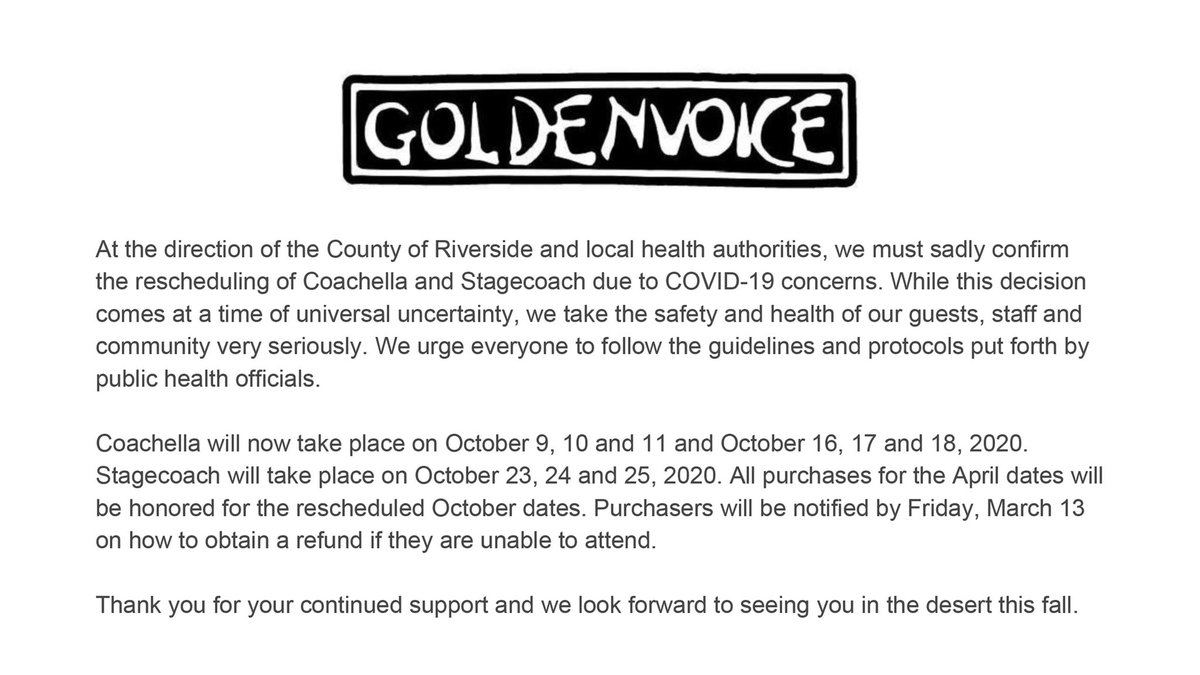 All ticket purchases will be honored on new dates, Goldenvoice said. People who cannot attend new dates will be notified how to obtain refunds by Friday, March 13.
Like the spread of the virus itself, the growing fear surrounding the coronavirus outbreak has quickly escalated on a global scale over the past three months.
Its impact on international industries and business is far and wide. There are those who believe the impact will be felt long after the pandemic has passed.
Kent Schmidt, who is a partner at the international law firm Dorsey & Whitney in its southern California office, specializes in business litigation. He has been fielding calls from companies since the outbreak on Contractual Performance Disputes and if a pandemic excuses performance of contractual obligation. Of this he says,
"Long after this health crisis is over, courts will be grappling with untold numbers of litigation disputes concerning whether parties are excused from performance of their contractual obligations during this health crisis.
Courts will likely be focused on whether the party seeking to be excused from the contractual obligation is being opportunistic—using the health crisis as a means to avoid contractual obligations that it would even otherwise prefer to avoid. Travel, conventions, trade shows and other related industries are likely impacted as much as any sector.
The argument may be based on the contractual doctrine of impossibility or impracticability of performance, frustration of purpose or reliance on a provision in the contract known as a force majeure clause.These provisions and legal doctrines represent a fairly high bar for a contracting party to satisfy—but in these unprecedented times of disruptions and uncertainty, many parties will be able to satisfy their burden."
It was only a matter of time until the music industry felt its impact. Nearly 600,000 people attended the 2019 edition of Coachella (formally known as the Coachella Valley Music and Arts Festival). It also attracts high-profile sponsors and brands — from McDonald's to Heineken— that are eager to reach its Instagramming and TikToking audiences.
Performers who were scheduled to appear were Rage Against the Machine, Travis Scott and Frank Ocean for Coachella and Thomas Rhett, Carrie Underwood and Eric Church for Stagecoach.
Other festivals such as Lollapalooza, which happens annually in Chicago in August, are definitely watching.
SOURCE: Golden Voice